After six years in kneejerk opposition, extending even so far as to abstain on or vote against budgets with their own amendments in them, Scottish Labour have apparently suddenly discovered the merits of mature, constructive consensus politics. This week has seen the party calling for unity in opposing the bedroom tax, and demanding that the Scottish Government should mitigate the effect on social-housing tenants by providing tens of millions of pounds from its own budget to bridge the gap.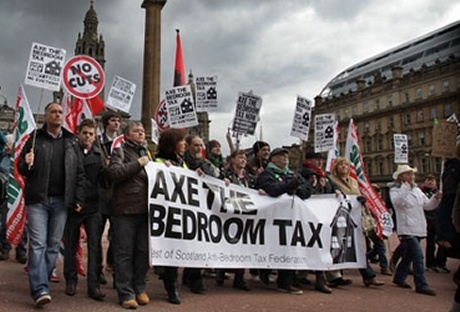 There are numerous reasons why this isn't a practical long-term solution, some of which we explore in the comments on this Labour activist's blog post. But if anyone should be wondering why it might also seem politically unattractive to the SNP, perhaps it might be instructive to note what Labour's reaction was when the Nats did that very thing a year ago, when finance secretary John Swinney found £40m to lessen the effects of UK government cuts forcing the poorest to contribute more Council Tax.
"The Scottish government has announced it is funding a £40m 'shortfall' in council tax benefit, after accusing UK ministers of unfairly cutting it. SNP ministers said the deal would help protect vulnerable people. Labour and the Lib Dems questioned if it could be paid for."

"COSLA president Pat Watters added: 'In taking this decisive action to cover the cost of council tax benefit, together with the Scottish government, we will once again be protecting the most vulnerable in society.'"

"Labour health spokeswoman Jackie Baillie, said: 'Everybody knows the Tories are cutting too hard and too fast, but we can't pretend this announcement plugs the gap. Even with today's figures, local councils face a £17m black hole across Scotland – on top of SNP ministers passing on a massive 90% of all the cuts they face to Scotland councils.'"
(Our emphasis, as ever)
So that's what Labour did the last time the SNP did what Labour are demanding it does now – moaned that it wasn't enough (but also that we couldn't afford it anyway), and rather than welcoming the move, sourly attacked the SNP for "passing on" Westminster cuts to councils. With gratitude like that, it's hard to blame the SNP for seeing no gain in acceding to Labour's demands now.
The circumstances of the two situations are rather different. With the bedroom tax, there are other and better alternatives, such as councils and housing associations reclassifying properties as having fewer bedrooms. No similar option was open with regard to Council Tax Benefit – councils can't redesignate what someone's earnings are, leaving the Scottish Government with few alternatives other than to either find money from somewhere or watch the poorest and most vulnerable suffer.
But as we've seen, Labour will attack the SNP if they DO directly compensate victims of Tory reforms, and they'll attack them if they don't. So the SNP could probably be forgiven for keeping on doing what it thinks is best for Scotland's social tenants and landlords, without the dubious (and dubiously-motivated) benefits of Labour's input.