Last night the not-noticeably-cybernat Liberal Democrat Voice website declared that a young woman in the audience of the STV leaders' debate, professing herself to be an undecided who'd been "totally convinced" by Jim Murphy to vote Labour, appeared to be the same person as one who'd previously appeared in Labour leaflets.
Then this happened.
I don't know why anyone is surprised that revelation having teenage lassie in Tuesdays STV debate was a Labour plant. They are desperadoes.

— Misssy M (@MisssyM) April 9, 2015
Pretty bad that they put the poor Quine in that position knowing folk would easily find out.

— Misssy M (@MisssyM) April 9, 2015
I think if anyone asked a girl to go on national TV and effectively lie for a political point then they need to take a step back.For shame

— Misssy M (@MisssyM) April 9, 2015
"MisssyM" is Gillian Martin, a WFI member, who called on independence supporters NOT to attack the young woman in question, even if the claims made by (pro-Union) Liberal Democrat Voice turned out to be true, which it looks like they weren't.
At which point, enter Blair McDougall of Scottish Labour and former campaign director of "Better Together", who retweeted the above tweet and then inexplicably chose to characterise it as doing exactly the opposite of what it actually said.
Last RT. Exec member of Women for Independence joining in the mob attack on a young woman.

— Blair McDougall (@blairmcdougall) April 9, 2015
And then irony took over.
@MisssyM Does this make you proud? Way to engage young women in politics. https://t.co/5QQ7kOtCJq

— Chris Kennedy (@ChrisEKennedy) April 9, 2015
@MisssyM you lot are just a bunch of FASCIST BASTARDS!!!! #SNPout

— The Captain@55 (@55_10_battalion) April 9, 2015
@MisssyM@blairmcdougall Another wee Fascist stormtrooper who's happy for grown men to hunt down a young girl. Sick perverts. #SNPout

— Scraggy (@scraggy78) April 9, 2015
Blair McDougall, ladies and gentlemen. We're sure, of course, that he'll take personal responsibility for all those Unionists heaping idiotic abuse on Gillian Martin, just like he endlessly demanded Alex Salmond did for every unhinged pro-Yes nutter during the indyref. He will, won't he? Blair? Hello?
[EDIT 11.30am: Nope, amazingly he'll somehow blame it on us.]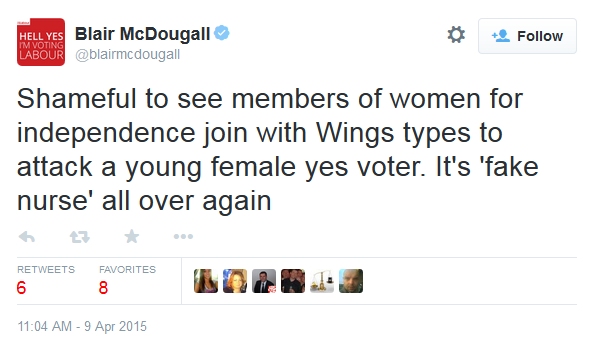 ——————————————————————————————————-
APPENDIX
Tweets from the young woman in question.