We got an annoyed comment yesterday from a reader about the number of articles we've written on the Rangers fiasco. Only a tiny (fingers-of-one-hand) number of readers have ever objected to the football pieces, but we don't want that number to grow, so we're just going to put this here for future reference.
There's a whole raft of reasons why the "crisis" at Ibrox is relevant to a Scottish political blog. As we've touched on before, we believe that were New Rangers to either disappear entirely or become a greatly-reduced force in football over the next two years, it could be a game-changer in the independence campaign. The parallel that could be drawn if the game survived in a healthy state bereft of the big Union Jack-waving institution everyone said we couldn't do without would be pretty obvious.
Secondly, there's no point pretending that Rangers stories don't draw in a wider audience to the blog, from right across Scotland, exposing people to its core content who'd otherwise never see it. We're not here to preach to the converted, that's a waste of time. We have to speak to people who have no political axe to grind and may not have made up their minds about independence yet, and anything that puts more eyes on pages is a positive.
The third reason, though, is something much more personal.
Wings Over Scotland took a team trip to Royal Wootton Bassett last weekend. After all the fuss over our mock "Better Together" poster a few days before, it seemed like it might be interesting to see the much-lionised town in person (especially on Armed Forces Day). And hey, if nothing else we could donate a few quid to the local economy by way of compensation for any unintended offence we might have caused.
Royal WB is an odd place in several ways – it feels a bit like visiting the 1950s. The single High Street is all but totally free of big chain stores, inhabited instead almost exclusively by local independent businesses. Everyone says a friendly "Hello" when you walk into a shop. It supports a remarkably high number of newsagents for its size, at a time where they're closing down left, right and centre everywhere else. But the thing that really leaps out at you is that it's surely the most patriotic town in Britain.
There's hardly a shop in Royal Wootton Bassett that isn't festooned in Union Jacks, in one form or another. (There are a few St George's Crosses knocking around too, but the UK flag is overwhelmingly dominant.) Butchers, hairdressers, knick-knack shops, card shops, inside or outside, it makes no difference.
(We'd have taken pictures of more of them, but we had to keep ducking in out of the intermittent downpours of torrential English summer rain, and you get the idea.)
Houses, too, frequently have flags or (at a minimum) bunting fluttering in the breeze to ensure you're never under any misapprehension as to which country you're in.
And as you might expect, municipal buildings such as the charmingly quaint museum-on-stilts (formerly the town hall, open 10am-12am Wednesdays and Saturdays) join in.
There's no discernible menace or aggression about Royal Wootton Bassett's somewhat ostentatious display of Britishness, unlike other places I've seen bedecked in the flag. But it made me feel a little uncomfortable anyway – sort of like a vampire in a church – as the Union Jack nearly always does. I'd never really thought about why until quite recently, but when I did I realised the reason is Rangers.
Alert readers will have noticed that the site's usual collective mode of expression has shifted to the first-person at this point, because while we're normally speaking on behalf of various people, my feelings about the UK flag are my own. I've never felt any attachment to the Union Jack, even as a child long before any awareness of politics. It's always felt like the banner of an unwanted foreign/colonial power, the emblem of a bullying occupying force, and the reason for that is because the only people who ever waved it where I lived were Rangers fans.
Being from almost the exact horizontal centre of mainland Scotland (apparently located in Armadale, just four or five miles from where I grew up in Bathgate), I had a typical Central Belt childhood, which is to say that the majority of children at my school and in my neighbourhood supported the Old Firm. The divide went almost exclusively down religious lines, with Protestant friends supporting Rangers and Catholic ones Celtic, and as I went to what Scots coyly term a "non-denominational" school my day-to-day experience was mostly of the Rangers side.
Even at the age of six or seven, when I first took an interest in football, I immediately and instinctively knew I didn't want to be part of that binary world. It seemed to be defined by hate on both sides, and it was ugly and frightening.
(This was the case even though it was conducted with a weird sort of professional detachment – in Bathgate, unlike some towns further west, the two communities intermingled with very few outward signs of hostility. The atmosphere was that the sides formally hated each other but that it was mostly a duty rather than a conviction – the Protestants hated Catholicism rather than individual Catholics, and vice versa. When our primary-school bus passed the local Catholic secondary, kids would jeer and shout and make rude gestures at each other, without the slightest idea why they were doing it, but would then come home and play football together as if the sectarianism had been merely part of a job, left behind at 5pm.)
Eschewing the Old Firm I could have ended up with almost any team – probably not Hearts and Hibs, who seemed in some vague undefined way to be somehow caught up in the same unpleasant business, but about a dozen professional sides played within 25 miles of Bathgate at the time. Instead, though, I arbitrarily picked Aberdeen, because my best friend supported them as his family came from Boddam.
After a terrible first season it turned out to be a fortuitous choice, eliminating any possibility of falling into the swamp in pursuit of glory or under peer pressure. But there was little danger of that anyway – the Union Jack, and the Irish tricolour along with it, were both alien symbols to me, signifying only darkness and grunting primitive savagery, and I wanted nothing to do with either one of them, or the bigoted hate songs sung beneath them about Britannia and Bobby Sands.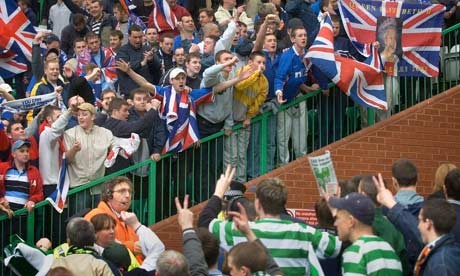 (Strictly speaking I had, and still have, a very marginally lesser aversion to the tricolour solely because it was the flag of the numerically-inferior of the two antagonists and therefore possessed some tiny amount of underdog value, but it felt just as nauseating and depressing when Celtic reached the UEFA Cup final in 2003 and turned Seville into a sea of Irish rather than Scottish flags as it did when Rangers fans rampaged thuggishly through Manchester under the Union Jack five years later. Though I suppose it's better than the latter having done so under the Saltire.)
It would be years more before I had any concept of Scottish nationalism, and more still before I fully grasped it as a political idea rather than an emotional one, but when it appeared it was pushing at an open door. I'm British, in that was born on and live in the British Isles, and will always remain so, but Britain is not my country and its flag means nothing to me – or at any rate, nothing good.
Let's be clear: I currently live in England, near the Welsh border, and (in so far as one can generalise) I like the English, Welsh and Northern Irish a lot. They're fine people, just as the French and Germans and Poles and Dutch are, which is why I want them to have their own nation (or nations, should that be their preference). But my land is Scotland, and my colours are the blue and white of the Saltire. Rangers (and Celtic) supporters are collaborators with an occupying army, and the sooner they and their flags are banished the sooner my country can hold its head high in the world.
So we'll probably be writing more about football, until the Scottish game either sells its soul for a few pieces of silver – just like Scotland's "nobles" did in 1707 – or finally stands up for the people and does the right thing. Either way, it shouldn't be long now.