This site has repeatedly – much to the displeasure of some readers – expressed the view in 2019 that the SNP doesn't know what it's doing with regard to Brexit. But it turns out we're not the only people who feel that way.
Last week we commissioned a Panelbase poll of SNP voters only (specifically those currently planning to use their Holyrood constituency vote for the party in 2021), and these were the results.
In other words, nobody has a clue what the goal is, let alone the strategy.
SNP voters were pretty much in an even three-way split about what they THOUGHT the party is trying to achieve – completely stopping Brexit, stopping a no-deal only, or letting Brexit happen but securing special terms for Scotland.
Interestingly, only 8% of people thought it was a fiendish ploy to LOOK like they were doing everything possible to stop it, so they could say to Remain voters in Scotland "Hey, we tried our best in good faith to do what was best for the whole UK, but Brexit happened anyway so now your only escape is independence."
That's curious because on social media it's a very widespread belief that that's the real plan. When we did a non-scientific poll of our Twitter followers at the weekend, the numbers were very different.
SEPARATE DEAL
Panelbase poll: 31%
Twitter poll: 9%
STOP BREXIT ALTOGETHER
Panelbase poll: 30%
Twitter poll: 41%
STOP NO-DEAL
Panelbase poll: 26%
Twitter poll: 27%
ONLY PRETENDING
Panelbase poll: 8%
Twitter poll: 23%
(NB Twitter polls only allow four options max.)
But back at the real poll, there was another striking fact. When we asked people what they thought the SNP's policy SHOULD be, rather than what they thought it actually WAS, we got this: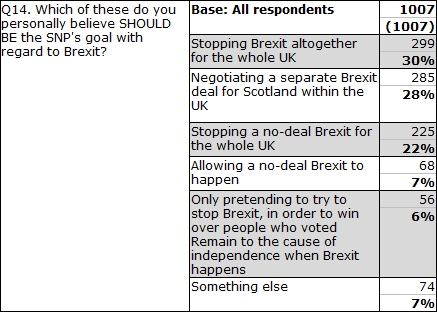 In other words, almost completely identical numbers to the first question, even though there was an extra option this time (to cater to SNP Leave voters – we don't believe that anyone genuinely thinks the SNP is trying to let no-deal Brexit happen simply on its own merits, so we didn't put it in the first Q).
Of course, we can't be certain that it was the same people giving the same answers to both questions, but it does seem overwhelmingly likely that the ones who thought the SNP should be (say) trying to stop Brexit altogether are the same people who thought that's what the SNP actually was doing.
tl;dr: people believe what they want to believe.
What we can state with certainty from these findings is that only 30% of SNP voters want Brexit stopped entirely, while 63% of them want to let it happen in some form or another. That is dramatically at odds with the party's publicly stated aims.
The bottom line, though, is that three-and-a-half years after the EU referendum vote SNP voters still really don't know what the party is trying to achieve, and they're hugely divided over the details of what that should be. So it probably shouldn't be all that surprising that the party itself doesn't appear to be clear on the question either.