We don't have the faintest idea what effect (if any) the Tory-millionaire-run "Vote No Borders" campaign might be having on the general public, but for those of us analysing the referendum campaign it's the gift that keeps on giving.
Whether it's the extremely suspicious nature of its funding, its employees airbrushing their CVs to remove any mention of ever working for it or the unashamedly blatant misinformation it's been pumping out remorselessly over a wide range of subjects, it looks increasingly like a very expensive attempt to make "Better Together" appear moderate, reasonable and likeable by comparison.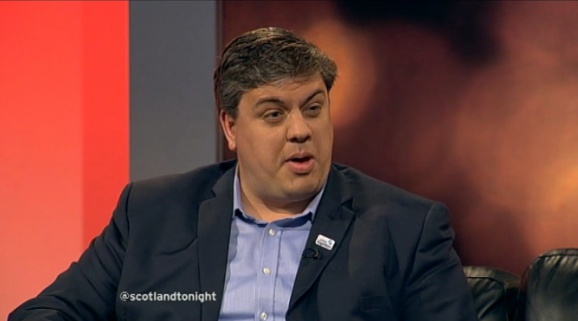 Last night, in response to a media furore ignited by Wings Over Scotland's revelation that it had pulled a cinema ad about the NHS after angry complaints from Great Ormond Street Hospital for Children, the group finally published an extraordinary, sour and petulant official statement about the incident. As far as apologies go, we think it's fair to say it leaves something to be desired.
It's well worth a breakdown.
"Our website is a platform for voters in the Referendum to have their say on why they are voting No."
No voters only? Fair enough. That at least explains why you locked down comments on most of it, citing non-existent "abuse", and delete and ban any dissenting views.
"Whilst researching and filming these voters across Scotland, they shared many concerns about the impact of Separation."
Nice proper-nouning, there.
"Amongst many other concerns, such as passports, defence etc. the provision of (and easy access to) healthcare was a consistent topic. Our cinema adverts developed out of these concerns and reflect these issues raised by real people in our films."
Wait, what? Your adverts developed out of the conversations you had while you were filming your adverts? How does that work? The adverts feature professional actors, not ordinary "unpolished" voters. Are you telling us you hired actors BEFORE you'd written the scripts, and then built the ads around what those two guys thought?
"Voters say they are concerned about health and the specialist care services that they have had easy access to in the past. There is uncertainty in their minds about what will happen. Reciprocal agreements may not be in place or even if they are, it is not certain that the level or means of access will be the same. This is one of the major concerns and one of the voices in our testimonial films shares this exact point."
Of course, YOU know that their concerns are groundless. Anyone who spends five minutes researching the topic does, and your campaign group has been two YEARS in the planning. You could have just reassured them, like human beings. Instead you filmed the uninformed in order to spread their misinformation to more people.
"Specialist hospitals are valued by people on both sides of the border. Shared expertise is a key benefit of the Union."
No it isn't. That's an absolute lie. As far as Great Ormond Street Hospital is concerned (functionally, not emotionally), Scottish people are already foreign. GOSH is not responsible for treating Scottish (or Welsh or Irish) children, because it's part of NHS England. Nobody outside of England has any right to be treated there.
They're treated there because the four independent national health boards in the UK have cross-border arrangements in place whereby the Scottish NHS will pay the English NHS (or vice versa, or whatever) for the treatment, as a business transaction.
Scottish independence would therefore change ABSOLUTELY NOTHING about the relationship between the four countries in terms of healthcare, because the four constituent health services are ALREADY COMPLETELY INDEPENDENT.
Hospitals on different sides of the various borders would continue to be able to buy treatments in exactly the same way they do now. Nothing would happen that would in any way alter or invalidate the existing agreements, because they're not, in any way whatsoever, a function of the Union.
In short, there is no political event which could make the four healthcare services more separate than they already are, because you can't be more than 100% independent.
"The cinema adverts show two people discussing practical questions such as passports and Healthcare in a post-Separation Scotland. They could have mentioned any number of specialist hospitals in the advert"
They could indeed, but your claims would have been equally false for any of them.
"and we appreciate the sensitivities of Great Ormond Street Hospital and have removed the particular advert mentioning them from our website. Our cinema campaign finished yesterday [29 May]."
If only you'd appreciated their sensitivities enough to actually ask them in the first place, eh? But then, if you had, they'd almost certainly have pointed out to you that your advert was a load of wildly dishonest fearmongering cobblers – or in their actual words, "very misleading" – and you'd have been in a bit of a pickle, wouldn't you?
"Our adverts highlight key concerns of voters and attract criticism from the Nationalists whilst the Yes Scotland ad features a highly offensive narrative about an unborn foetus – a crude advert judged to be dark and cynical by many voters, in particular young voters."
Does it? Are you sure? We scoured YouTube for any ad fitting that description and drew a blank. The only thing we could find that even remotely came close was this:
Seriously? That? THAT'S what you're calling "dark" and "highly offensive"?
The clip above is 45 seconds of laughing, smiling children, happy families and hugging. If you're an angry, bitter Unionist – and in fairness you do seem to be – you could construct some sort of case that it was a bit saccharine, even twee, or (like any political broadcast) manipulative. But "dark" and "highly offensive"? Wow. What sort of scarily messed-up, hate-fuelled nutter do you have to be to call THAT video "dark"?
(Oh, and just while we're here, incidentally, "unborn" as opposed to what other kind of foetus? A "foetus" is specifically "a developing mammal or other viviparous vertebrate after the embryonic stage and before birth". Foetuses are all "unborn" by definition, you fat-headed balloons. Here on Earth we call born foetuses "babies".)
"Our research indicates that Scottish voters want more facts."
We hate to break this to you, but "facts" have to be true.

You might want to write that down somewhere for future reference.
"More information needs to be provided on these 'nitty gritty' issues."
Indeed it does. People deserve to be told the truth, which in the case of cross-border healthcare is that absolutely nothing will change with a Yes vote.
So why are you instead feeding them a load of lies, frightening people worried about their sick kids with the utterly, empirically false prospect that independence will see them denied vital medical treatment?
"Practical issues like healthcare, jobs and passports concern Scottish voters more than the macro issues and our adverts shine a light on some of the assertions and assumptions of the Nationalists."
No, they don't. They do the exact opposite. They introduce shadow and doubt where none exists, muddying things which are in fact perfectly clear. The only reason people are uninformed is because you and your No compatriots are lying to them.
Well, yes. Because YOU'RE stifling it, by deleting and banning any comment on your website that tells people the truth. If you weren't lying, you wouldn't be scared of people challenging you and linking readers to the real facts.
If you weren't lying, you wouldn't have been scared to let any English hospitals see your ad before you ran it. But you knew that by the time they found out and objected to the complete falsehoods being perpetrated in it, the campaign would have run its scheduled course and the damage would have been done.
"and the Vote No Borders campaign is a platform for Scottish people to air their views and ask those important questions."
…but not for them to be told the answers. If anyone tells them the answers, you delete them and ban the author in case they try to tell the truth again.
"We look forward to sharing those voices over the coming months."
In the very last line of the statement, the first sentence that's true. We're sure you DO look forward to that, because all you're interested in is the doubt, not the resolution. You want people to be scared and dumb, because scared and dumb people vote No (to anything), praying desperately that it means no change.
Polls consistently show that the more informed people feel the more likely they are to vote Yes. You don't want that, so you work to keep them confused.
But for as long as you're spreading lies to the people of Scotland, we'll be watching you. Anyone who wants scary, misleading "questions" can visit your website. If they want the actual answers, they can come to ours.
.
EDIT 2pm: An alert reader shamed our YouTube skillz and found a longer version of the "Kirsty" video here. It does contain a couple of black-and-white inserts pointing out the unarguable facts that the UK has tuition fees and nuclear weapons, but the long version also has more upbeat music and extra dancing and smiling and hugging and general happiness, so "dark" and "highly offensive" is still something of a push.