Quickly rounding up some of the more interesting reflections on (and in some cases, prescient predictions of) recent events. By all means send any you've spotted that I've missed and I'll add them.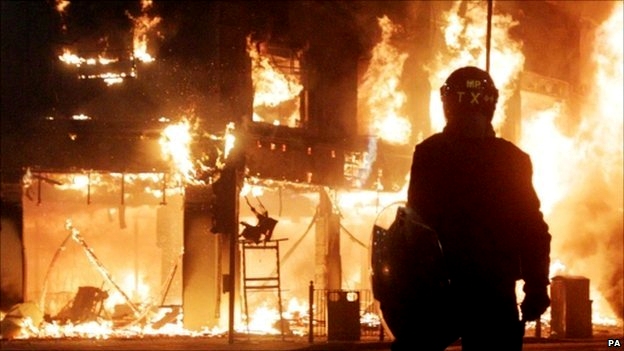 Riots: the underclass lash out (Daily Telegraph)

"Meanwhile, the view is gaining ground that social democracy, with its safety nets, its costly education and health care for all, is unsustainable in the bleak times ahead. The reality is that it is the only solution."
There is a context to London's riots that can't be ignored (The Guardian)
"Decades of individualism, competition and state-encouraged selfishness – combined with a systematic crushing of unions and the ever-increasing criminalisation of dissent – have made Britain one of the most unequal countries in the developed world."
Insane in the economic membrane (ABC Australia)

"And the Tea Party's right in one way: it's a religious, almost fundamentalist principle. You look after people. You don't punish them for the sins of men earning eighteen hundred dollars an hour for moving jobs overseas."
No riots here. Just quiet, ever-deeper misery (The Guardian)

"The promises both parties offered to those who 'worked hard and played by the rules' – of rising living standards, a secure retirement and a better life for their children – sound empty. Millions are living thwarted lives of quiet desperation, and cannot see a way to escape them."
Panic on the streets of London (Laurie Penny)

"Two months ago we marched to Scotland Yard, more than 2,000 of us, all blacks, and it was peaceful and calm and you know what? Not a word in the press. Last night a bit of rioting and looting and look around you."
Theresa May: We can cut police budgets without risking violent unrest (The Guardian)

"The British public don't simply resort to violent unrest in the face of challenging economic circumstances."
Nick Clegg warns of riots if Tories are elected (Sky News)

"This is Walthamstow, in East London, this is not Athens or any other Greek city."

Global economic Armageddon is nigh – so let's tax the rich (The Herald)

"In America and Britain, the story of the last 30 years has been the reversal of this democratisation of the economy. Income and wealth inequality has returned to the levels of the 1920s, with a tiny fraction of the super-rich taking a vast proportion of the wealth of the economy and investing it in stocks, houses and other speculative assets."
Evicting rioters' families from their homes? There's a horrible logic to it (The Guardian)

"It fits very neatly, however, into a wider agenda on public housing, which is already an emergency remnant of a once-proud institution. The coalition sets time limits on council tenancies and freezes the already meagre levels of social housebuilding; Labour councils embark on massive demolition programmes of large estates and their replacement with developer-led mixed private and supposedly affordable estates. Both have much the same effect – removing the "undeserving" poor from highly profitable inner-city sites."
BBC News "interviews" Darcus Howe (YouTube)

(This one's not so much interesting as just an utter fucking disgrace. About as close as I've come to withholding my licence fee.)
When I grew up in Tottenham we stole sweets; now it's revenge shootings (Evening Standard)

"In the aftermath of the riots and the death of PC Blakelock, money was poured in to regenerate the area and the police made huge efforts to re-engage with the community"
The year we realised our democratically elected leaders can no longer protect us (The Guardian)

"It's striking that the targets have not been town halls or, say, Tory HQ – stormed by students last November – but branches of Dixons, Boots and Carphone Warehouse. If they are making a political statement, it is that politics does not matter."
Don't know what I want but I know how to get it (The Herald)

"For, while it may be true that those who took to the streets lacked any coherent political purpose, that doesn't mean they didn't have a kind of moral justification for their actions. In interviews with rioters, we frequently heard the claim that MPs, bankers and celebrities behaved badly, so why shouldn't they?"
Caring costs – but so do riots (The Independent)

"It's not one occasional attack on dignity, it's a repeated humiliation, being continuously dispossessed in a society rich with possession. Young, intelligent citizens of the ghetto seek an explanation for why they are at the receiving end of bleak Britain, condemned to a darkness where their humanity is not even valued enough to be helped. Savagery is a possibility within us all. Some of us have been lucky enough not to have to call upon it for survival"
The psychology of looting (The Guardian)

"Between these poles is a more pragmatic reading: this is what happens when people don't have anything, when they have their noses constantly rubbed in stuff they can't afford, and they have no reason ever to believe that they will be able to afford it."
Imagine the Bastille with Blackberries (The Independent)

"A riot is usually a sudden realisation, that after years of feeling helpless and rubbish, with a growing sense you're being blamed for everything, that if everyone goes berserk at once they can do what they want for a couple of days."
Who are the rioters? Young men from poor areas… but that's not the full story (The Guardian)

"When incidents like this happen the authorities are fond of saying that troublemakers have been bussed in from outside. But there's none of that here. Neither is there any sign of the anti-globalisation or anarchist crowds. This is unadulterated, indigenous anger and ennui. It's a provocation, a test of will and a hamfisted two-finger salute to the authorities."
The moral decay of our society is as bad at the top as the bottom (Daily Telegraph)

"The Prime Minister showed no sign that he understood that something stank about yesterday's Commons debate. He spoke of morality, but only as something which applies to the very poor."
Ruling class rioters don't wear masks (The Independent)

"The notion of capitalist investment – the use of accumulated wealth to grubstake a business that will pay dividends – is somewhat quaint, seen in the context of this kind of sophisticated market looting. To take part in such riots, you need three things: huge wealth, membership of a gang of similarly avaricious and well-connected thugs and the morals of a Tottenham looter."
These riots reflect a society run on greed and looting (The Guardian)

"If this week's eruption is an expression of pure criminality and has nothing to do with police harassment or youth unemployment or rampant inequality or deepening economic crisis, why is it happening now and not a decade ago? And if it has no connection with Britain's savage social divide and ghettoes of deprivation, why did it kick off in Haringey and not Henley?"